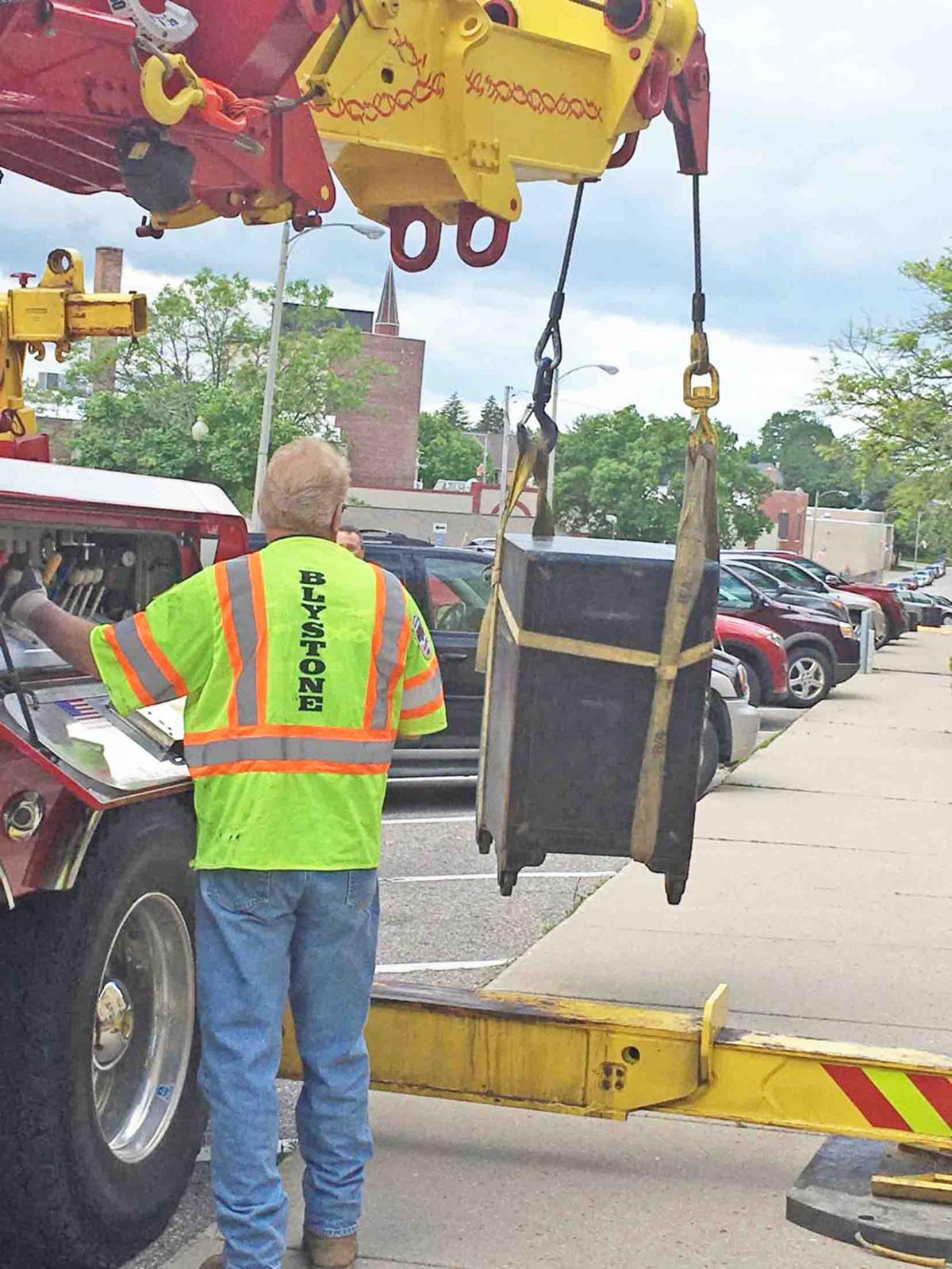 It was a scene right out of a "Roadrunner" cartoon, except the dangling 1-ton safe wasn't labeled "Acme."
A few days after the members of the Fort Winnebago No. 33 Free and Accepted Masons invited the public to take the fixtures from their soon-to-be-razed temple at 111 W. Conant St., the Masons called on Blystone's Towing on Tuesday morning to move an item that the Masons want to keep in their new temple at 205 DeWitt St.
For the two-block move, the safe dangled on two hooks, with strapping to keep it from swaying, and a pair of rubber mud flaps to keep it from denting or scraping the back of the tow truck.
Longtime Mason James Swan Sr. said the safe, which has a combination lock, was empty for the move, as far as he knows. He said he doesn't know how old the safe is, but it was used — and will be used again — to store vital lodge records.
The Masons sold their temple, built in 1936, to Columbia County, which plans to raze the building, and two other neighboring structures, to add parking lots for the Columbia County Courthouse, 400 DeWitt St.
When the building comes down, Swan said, the Masons want to keep as many as possible of the concrete Masonic symbols on the building's façade. And they want the cornerstone, on the buildings southeast corner. Something of a historical nature is expected to be inside the cornerstone, Swan said, but nobody knows what.
First, however, the Masons had to clear as many fixtures from the building as possible, which is why, on Saturday, the building was opened to the public, for the last time. Swan said somebody got at least some of the light fixtures affixed to the high ceiling of the meeting room.
Getting the safe out was a challenging task, even though it's on wheels.
Jerry Blystone and his crew used heavy-duty strapping, criss-crossing the bottom of the safe, to create something to which the hooks could be attached.
Instead of taking it down the short flight of exterior stairs, the crew hoisted the safe into the air before preparing it for transit.
It arrived, safe and sound.
Read more: http://www.wiscnews.com/portagedailyregister/news/local/article_434ab028-4aa9-5416-af71-cfbb6628de3f.html